In this piece I will tell you about my latest hackish script: Creating a PDF calendar with CHICKEN Scheme's cairo binding. This includes a nice detour about date arithmentic as well as unreadable code for the actual calendar generation.
Still interested? Good! Read on, my dear.
In the past the wife has made a family calendar for our wall in A3 format. This has been done manually (in Adobe Illustrator IIRC) and involved a lot of tedious repetitive entries of all holidays and anniversaries.
The argument has been that computer generated calendars look ugly. A quick research showed that, there are hardly any free software programs out there that would come close to the original.
So I started out to write up my own. What would I need for a calendar? Let's count:
A date representation, that allows one to query the weekday of a given date, and getting to know the date for the easter sunday.
A graphic backend that can render PDFs so I can go to a copy shop to print the A3 pages.
Not too much! From a previous (unfinished) project I had some bits and pieces for representing dates in a '(year month day) list structure, even possibly representing "partial" dates as I called them. With partial dates one would leave off the right tail(s) for uncertain dates, i.e. when you want all entries from a given month you'd use '(year month) and so on. But I digress…
I also implemented the weekday query already (since in said project I have implemented a date-picker widget) using Gauss' method. Searching for a method to calculate the date for easter sunday as a lot of german holidays depend on this, I stumbled again over Mr. Gauss for having found a method to properly calculate this date. I am using the enhanced method as told by wikipedia (german only, sorry).
In scheme that beast looks like this (almost verbatim taken from wikipedia):
(

define

 (

easter-sunday date

)
  (

let*

 ((x (

first date

))
         (k (

quotient x 100

))
         (m (- (+ 15 (quotient (+ (

* 3 k

) 3) 4))
               (quotient (+ (

* 8 k

) 13) 25)))
         (s (- 2 (quotient (+ (

* 3 k

) 3) 4) ))
         (a (

modulo x 19

))
         (d (modulo (+ (

* 19 a

) m) 30))
         (r (quotient
             (quotient (

+ d a

) 11)
             29))
         (og (- (

+ 21 d

) r))
         (sz (- 7 (modulo (+ x (

quotient x 4

) s) 7)))
         (oe (- 7 (modulo (

- og sz

) 7)))
         (os (

+ og oe

)))
    (

if

 (

< os 32

)
        (

list x 3 os

)
        (list x 4 (

modulo os 31

)))))
The only adjustment I have made is that I return a proper date and not March 32nd for April 1st.
So the essential holidays can be created like this:
;; on the easter date' but that's also a dumb name
(define (roman-catholic-holidays date)
  (let* ((y (first date))
         (es (easter-sunday date))
         (christmas-day (day-of-week `(,y 12 24)))
         (4th-advent-sunday (if (= christmas-day 6)
                                `(,y 12 24)
                                (days+ `(,y 12 24) (- (add1 christmas-day))))))
    `(((,y 1 6) . "Heilig. Drei Könige")
      (,(days+ es -52) . "Weiberfastnacht")
      (,(days+ es -48) . "Rosenmontag")
      (,(days+ es -47) . "Faschingsdienstag")
      (,(days+ es -46) . "Aschermittwoch")
      (,(days+ es -7) . "Palmsonntag")
      (,(days+ es -3) . "Gründonnerstag")
      (,(days+ es -2) . "Karfreitag")
      (,es . "Ostersonntag")
      (,(days+ es 1) . "Ostermontag")
      (,(days+ es 39) . "Christi Himmelfahrt")
      (,(days+ es 49) . "Pfingstsonntag")
      (,(days+ es 50) . "Pfingstmontag")
      (,(days+ es 60) . "Fronleichnam")
      (,(days+ 4th-advent-sunday -21) . "1. Advent")
      (,(days+ 4th-advent-sunday -14) . "2. Advent")
      (,(days+ 4th-advent-sunday -7) . "3. Advent")
      (,4th-advent-sunday . "4. Advent")
      ((,y 12 24) . "Heiligabend")
      ((,y 12 25) . "1. Weihnachtsfeiertag")
      ((,y 12 26) . "2. Weihnachtsfeiertag"))))
(Not all of these are bank holidays, but I have included them for good measure, after I got through all this trouble…)
You may note that this may contain more than one entry for a given date. The code recognises this by "querying" with filter-map instead of alist-ref and concatenating results in a proper way.
So with all this we can think about drawing stuff. In CHICKEN Scheme I have a nice binding to the cairo library available, that does support PDF surfaces, so let's use this.
As for drawing primitives I need a rectangle and some nice TTF font rendering, both easily available.
As I had a nice layout to copy from, writing the resulting calendar has been a breeze.
The result looks like this: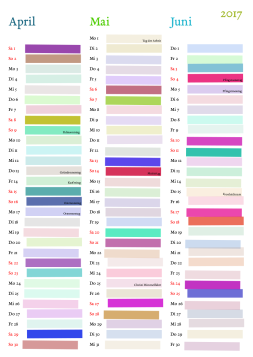 See the full image for further details.
The font used in this example is the nice EB Garamond by Georg Duffner.
The code includes a second mechanism for anniversaries/birthdays which have been omitted in this screenshot.
Things you will have to change to make it work for yourself:
Localisation of weekday names and months
Check the holidays for your location, even for Germany these differ wildly from state to state
Adjust the layout to your needs
Another layout for different paper sizes
Adjust the global year variable
A currently broken idea is the display of moon phases for fun. Calculating moon phases is another problem altogether I have learned…
If you are willing to do all this, then download cal.tgz (142KB) and run it with "csi -s cal.scm" to get a "calendar-2017.pdf".
If you have cool ideas, I am looking forward to reading about them (or patches!).